If you are a nurse or perusing a degree in nursing, you definitely would have dreamt of working in a country that gives great facilities to the nurses and their families. And if so, your best bet is working as a nurse in the UK. Read on to know everything you've ever wanted to know about working in the UK. Dynamic Staffing Services runs workshops/ seminars in about eight cities each month where all the below topics are covered free of cost. Click the seminar link to register for the upcoming workshop. It's a great time to visit with your family and have all your questions answered.
How to get a nurse job in the UK?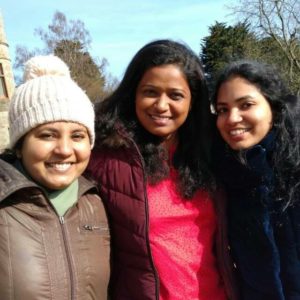 The great news about finding a nursing job in the UK is that there are about 40,000 vacancies within the United Kingdom, so if you have what it takes, you can make it. The United Kingdom is a highly regulated country; nurses are protected from exploitation.
The vacancies have been adding up, and unfortunately, NHS in the UK hasn't been able to keep up by adding adequate nurses into the healthcare sector. The National Health Service (NHS) is reliant on overseas nurses to fulfil its vacancies.
Recruitment drives are frequently held in many countries, so opportunities are there in abundance. The best way forward is to find a reliable and trusted recruitment agency who conducts seminars to teach nurses all about the processing of getting a nurse job in the UK. Take your time before deciding and once you have decided then educate yourself by reading. For more information and guidance, visit – www.dsshealthstaff.com.
Nursing Jobs in the UK for Overseas nurses
If you are set to become a nurse in the UK, you will need to be patient and diligent. The process can take up to 8 months and in some cases, even more. The process requires a lot of paperwork, but it's no more difficult than applying for a loan or filling out a visa application for the US. Point being, its time consuming, but very doable.
Keep in mind that due to the EU employment regulations, also known as EEA, the induction norms for nurses trained in Europe are easier and different than those trained outside.
Overseas Nursing Programme / Adaptation to Midwifery Programme
In case you have been trained outside the EEA and accepted into the NMC registration, you need to take a nursing or midwifery course to align your skills with the requirements in the UK. You will have to enroll in courses before you arrive. Post completion of the course, you may gain your NMC registration.
If you have received training outside the EU/EEA, there is a competency test (CBT), and a practical examination of skills called the OSCE (Objective Structured Clinical Examination).
Nurse visa for the UK
As the shortage gets more and more acute, the government of UK as of June 2018, announces that there would be some flexibility in the rules for these visas and more importantly there is no longer a cap on the number of visas to be issued. That's great news for nurses looking for jobs in the UK.
Since there is no cap in place, it means the government of the UK is very serious about fulfilling their vacancies. These vacancies pose a very serious threat to the growing population of the UK that requires healthcare more and more with each passing day.
Aspiring nurses who seek jobs in the UK must look at this as great news. Governments are known to change their policies very quickly, so if you have ever considered living and working in the UK, it seems there is no better time than now.
The first step is to ensure you qualify. Read on to see what you need to qualify.
Nine things you need to become a nurse in the UK
Nurse shortage in the UK has brought many nursing jobs to citizens of countries such as India and the Philippines. However, do you know what you require to qualify? Well, here is the list of the documents that you need to have in order to get a job as a nurse in the UK:
At least six months valid passport
Your Birth Certificate
High-school and 12th mark sheets.
Nursing or midwifery diplomas and registration certificate
Copy of training for all important nursing or midwifery programs completed by the candidate. These must be calculated in hours or be accompanied by a letter from the training institution with a key to how the credits translate to hours.
The employment reference from your previous workplace is confirming that you are a person of good health and good character. Two employment references are required of at least 12 months.
Registration certificates from the jurisdiction/s where the applicant has practiced previously.
Verification from all jurisdictions where the applicant has been registered or practiced.
To register under NMC, the evidence of completion of the academic version of the IELTS test is also required. The overall score required in IELTS is 7.0. However, a 6.5 score in the Writing section of the test is acceptable.
For current nursing job vacancies in UK, visit our website: www.dss-hr.com or call us @ +91- 9999021814.
Can a nurse travel with her/his family to the UK?
Anyone who plans to go to the United Kingdom wants to know whether and how they can take their family with them. The answer is 'YES.' Your family members, generally the dependents (your wife, husband, and your kids under the age of 18) can go with you or any time after that on your visa.
As you are going to the UK as a pre-registered nurse, we recommend you call your family after passing the OSCE examination for the sake of a safe settlement.
What are the Costs Involved?
Pretty much everything to do with your own job is paid for so effectively; your recruitment should be free.
If you are taking your family with you, then the visa application fee for each dependent, i.e., £464.
Immigration health surcharges, i.e., £1200 for three years
Flight tickets for the dependents.
Dependent's rights: If you are going with your spouse, he/she have all the rights to live and work in the UK. If you are going with your children, they will have free education there.
What are the documents required for a dependent visa application?
Passport
TB test reports (applicable for specific nationalities)
Police clearance check (if they live in multiple countries, police clearance will be required from all those countries)
Birth certificate for children
Marriage certificate for spouse
Accommodation proof in the UK (Rental Agreement)
Employment confirmation letter from your employer
Your employer in the UK is your sponsor, and only he will certify the maintenance fund for your dependents. Therefore you don't have to present a personal saving statement. Here the thing to note is that you will not have access to the public funds and you will be solely responsible for meeting all the requirements of your dependent in the UK. You can find detailed information on bringing your family to the UK on the NMC website.
10 Benefits of being a full-time registered NHS Nurse
Now that we have discussed all the responsibilities and liabilities, it's time to discuss the benefits you will get if you choose to work as a registered nurse in the UK.
1.     NHS Band 5 Salary range from £ 23,023 to £ 29,608 per annum.
2.     27 days of paid annual leave 27 and 8 Public Holidays.
3.     Permanent contract.
4.     NHS Pension and range of staff benefits with additional benefits.
5.     A standard working week of 37.5 hours.
6.     Free flight to the UK to begin your job.
7.     Free accommodation for the first month in the UK.
8.     OSCE Training and Exam (first attempt) deducted from relocation.
9.     Reimbursement of IELTS/OET, CBT, NMC, and VISA fees.
10.  Assistance with your NMC Application and CBT Training. (DSS provides the assistance free of cost)
Eligibility criteria & Types of nursing opportunities in the UK
1. Adult (General) Nursing
To register as a general nurse, you must have completed a program at the post-secondary level. The length of the programme should have been three years (full time or part-time equivalent) and contains a minimum of 500 hours of clinical practice. You'll need to have all the documents and certificates to validate this.
Your program must have included theoretical and practical instruction in:
General and Specialist Medicine
General and Specialist Surgery
Childcare and Paediatrics
Maternity (Obstetric) care
Mental Health and Psychiatry
Care of the Elderly
Community/Primary care Nursing
2. Mental Health Nursing
To register as a mental health nurse, you must have completed a three-year (full time or part-time equivalent) pre-registration mental health programme, OR
A 12-month post-registration mental health training programme, after completing a general nursing programme that meets NHS's requirements as mentioned above.
Whatever route you choose, your program must have included theoretical and practical instruction in:
Mental Health Nursing (must include acute and chronic illness)
Care for young and kids with mental health issues
Care for elderly adults with mental health problems
Specialist mental health-care
Continuous care and rehab
Community care
3. Learning Disabilities Nursing
To register as a learning disabilities nurse, you must have completed a three-year (full time or part time equivalent) pre-registration Learning disabilities nursing training programme, OR
A 12-month post-registration learning disabilities training programme after completing a general nursing programme that meets NHS's requirements as mentioned above.
Whatever route you choose, your program must have included theoretical and practical instruction in:
Learning disability nursing in a range of care environment ( must include day-care and residential settings)
People support with mental health problems and complex needs
Care for people of all ages with learning disabilities
Working with families and custodians to support people with learning disabilities
4. Children's Nursing
To register as a children's nurse, you must have completed a three-year (full time or part-time equivalent) pre-registration children's nursing training programme, OR
A 12-month post-registration children's nursing training programme after completing a general nursing programme that meets the NHS's requirement, as mentioned above.
Whatever route you choose, your program must have included theoretical and practical instruction in:
Care for children in a range of care settings (must include specialist medicine and surgery
Care for children in a neonatal, emergency and high-dependency environment
Care for children in school, home, and the community
Working with families and guardians to care for sick children of all ages
Step by Step process of becoming a nurse in the UK: Application Process Timeline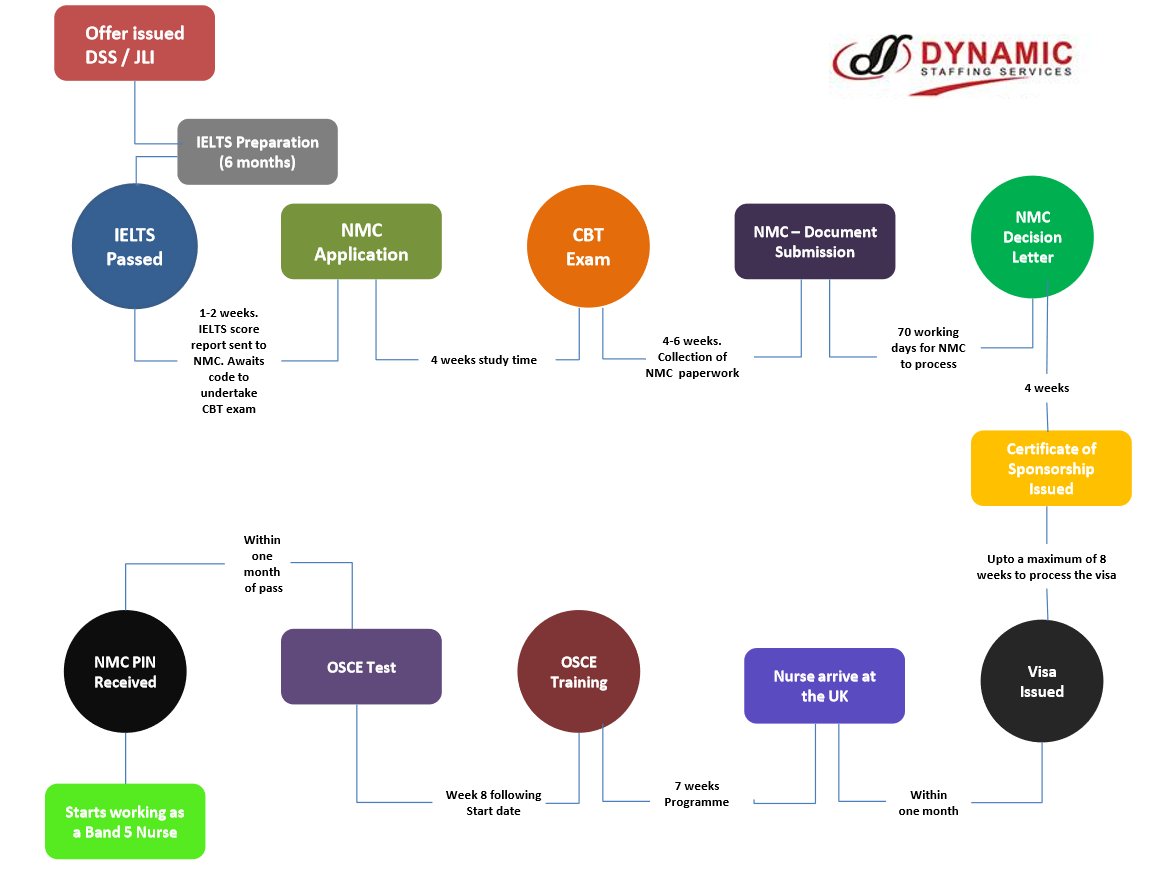 As explained above in the chart, the process timeline is as follows:
After you are issued an offer letter, and you have not yet appeared in the IELTS/OET test then prepare for the test and clear your exam. Three months for IELTS/OET. 2 weeks study for CBT. Next step is the NMC application. Here is the process timeline for NMC Application.
 NMC Application Process Timeline
You must pass the NMC self-assessment eligibility stage before processing further. Once you pass the stage, you must successfully complete the first part of the test of competence (CBT) within six months, and if you fail to complete the same, the application will be closed, and you will be required to apply again. You can have a maximum of two attempts to pass the CBT. Also, there needs to be a gap of a minimum of 28 days between the initial sitting and a re-sit.
There are 120 multiple choice questions related to general nursing knowledge. The results of CBT will be emailed to you within 48 hours to 14 days of taking the exam. The CBT is valid for two years. If you fail both the attempts, you will have to wait at least six months before you could apply for the registration again. You are required to pay the fee in full, every time.
NMC advises that you start the assessment stage and provide documents as soon as you have passed the CBT.
After successful completion of CBT and English Test, you are required to collect all the necessary documents and submit them to the NMC. NMC process the application in around 60-90 days, after receiving all the required documents.
You will be required to take IELTS UKVI test. Generally, the score needed for Tier-2 (General) visa is 4.0 overall, and for each of the four skills. For more information, please refer to this page– and to book your test- click here.
You must book a medical test to support TB clearance as it is mandatory for visa application. After that only, the employer can apply for the Certificate of Sponsorship (COS). This is important to note that COS is valid for three months only, and the visa is to be applied as early as possible. It may take around four weeks for the approval of the application to Visa & Immigration and Bio-metric residency appointment.
UKVI specify dates of travel to the UK on Tier 2 (General) visa within 30 days from the date of approval.
After you reach the UK, you can start working as a Healthcare assistant nurse. It is important to note that you must appear in the OSCE (Observed Structural Clinical Examination) after 45-60 days of OSCE exam training. Also, you need to complete the OSCE within eight months, or COS will be canceled.
You can have three attempts at the OSCE, as part of one application ( one initial and two re-sits). If you are not able to clear OSCE at first attempt, you can retake the exam after ten days. If unsuccessful at the second attempt too, you can take the OSCE exam for the third time after a gap of at least three months from the date of the second attempt.
If you fail to complete the test in the third attempt too, your application will be closed, and you will have to submit a new application with a gap of at least six months.
You will get the OSCE results on your email within five working days of taking the examination.
How much does it cost to become a nurse in the UK?
The cost of becoming a nurse is negligible, especially compared to what you are getting in return. Recruitment costs are free and most incurred cost are reimbursed. Worry less about the cost and more about how to qualify. The only cost you pay is the medical test; besides that, it's all free!
We have mentioned the expenses, including OET/IELTS test fees, NMC registration, CBT test, OSCE test, Medical test, Visa processing fees, and others. Please go through the chart below to get a better understanding.
IELTS/OET
123.91/458 GBP
 To be borne by the applicant and potentially reimbursed by the Hospital later (up to 100-200 GBP dependent on the employer).
NMC
140 GBP
To be borne by the applicant.
CBT (Computer Based Test)
130 GBP
To be borne by the applicant and be reimbursed by the Hospital later.
Medical Cost
INR 2000-2500
To be borne by the applicant.
Visa Cost

Priority Visa cost

INR 46,000

INR 22,000 additional

Paid by Employer

The additional cost to be borne by the applicant.

One way flight ticket to the UK

£400-700
Paid by Employer
Immigration Health Surcharge

1200 GBP (400 GBP/Year)
Paid by Employer
Courier/Visa Fee
Miscellaneous
Miscellaneous Cost
Working conditions for nurses in the UK
The national pay system for the NHS is for all directly employed staff, excluding doctors and the most senior managers. The pay system offers the below benefits:
A standard working week of 37.5 hours,
Holiday entitlements of 27 days per year, and eight general and public holidays that will rise to 33 days after ten years' service,
Additional payments for out of hours, shift and overtime working,
Better career and salary progression based on the application of knowledge and skills, and a personal development review on an annual basis to support your career objectives.
Other benefits include training, membership of the NHS Pension scheme, occupational health services, and study leaves for the sponsored courses.
For more information, read more about the Agenda for Change pay rates on the NHS website.
NHS Pension Schemes
The NHS Pension Scheme is one of the best pensions schemes in the UK. Every new employee becomes a member of the scheme automatically, and you will get an excellent package of pension benefits. Find out more about NHS Pensions.
NHS Employment Policies
The policy ensures that there is a fair rate of pay for all staff across the entire healthcare system.
Provide training and personal development opportunities that help people to work to their full potential.
Emphasize on equal opportunity for all.
The policy ensures good working conditions with proper holiday entitlement and other benefits.
Its excellent pension scheme is like a cheery on the cake.
The difference between IELTS and OET
| | |
| --- | --- |
| OET | IELTS |
| Occupational English Test tests four English skills, reading listening, speaking, and writing. | International English Language Testing System tests four English skills, reading listening, speaking, and writing. |
| OET tests the ability within the context of the medical profession. | In the IELTS test, a wide variety of topics are covered. |
| OET is recommended for healthcare professionals as they will be tested on things related to their jobs. Thus, many medical professionals find OET easier than IELTS. | IELTS can be done by any individual who wants to settle down in the UK, Ireland, Australia, and almost any other country in the world. |
| You need to clear OET with overall Grade B. | You need to clear IELTS with an overall score of 7. |
We recommend that healthcare professionals should go for OET. If you have more questions regarding the IELTS and OET requirements, please refer to the IELTS and OET website for further information. Also, you can attend our training workshops to get the answers of all your questions.
To book the workshop, call us at: +91-9310050202 or email us your queries at training@dsshealthstaff.com.
What is the process of permanent residency in the UK?
The Process of Permanent Residency
Permanent Residence application is the best way of ensuring your future in the UK. Here are the criteria, fees, and other requirements.
Criteria
For the process of permanent residency, mostly all types of visa holders have to wait for five years. In this period, you should not be absent from the UK for more than a period of six months in any year.
Tier 2 (General) visas are valid for six years at max, and you can't get it renewed. But if you are eligible, you may apply for settlement within a window of 12 months.
If you don't qualify for PR (Indefinite Leave to Remain) before the expiry of your temporary visa, you are subject to a 12-month 'cooling-off period,' during which you won't be allowed to reside in the UK.
Fees and Other Requirements
You have to establish that your visa remains valid for the entire visa period.
You have to confirm your continued employment.
In most circumstances, the fee is £ 2,389. Its takes around six months to process your PR application.
English Language Test and OSCE
All non-EEA applicants must also pass an English language test and an exam designed to test the applicant's knowledge of British traditions and customs.
For this OSCE test, which is the test of basically 'life in the UK', you must score a minimum of 75% to pass. There is no limit to how many times you may attempt the test, but there is a fee that you have to pay each time to sit in the test. We, at our training centre, provide OSCE preparation classes that assure your success in one shot.
Important Notes
You must be earning £ 35,000 annually in order to qualify for PR application. Your employer must confirm in writing that you are being paid the same.
The biggest benefit of being a Permanent Residence holder is that you can also sponsor your family members.
To know more, please refer to the UK Govt. website.
Wrapping It Up
We have covered all the crucial aspects that you must know before making up your mind to apply for a nursing job in the UK. Still, if you think we have missed anything, or you have any suggestion or any query regarding the process and article, you can contact us at +91-1140410000 or send us an email at healthcare@dss-hr.com or comment below, and we sure will try our best to resolve the issue. Always happy to help!
Cheers!!
Author: Varun Khosla
MD, Dynamic Staffing Services